Next WPARC Meeting
Our Next Club Meeting is Jul 19, 2016, 7:00 PM
Woodcreek Oaks Golf Club
5880 Woodcreek Oaks Blvd., Roseville, California
Scheduled Speaker and Topic

Club Members Recall our 2016 Field Day



Club Meeting Location

WPARC conducts monthly club meetings on third Tuesdays of each month. Join us at Legends at Woodcreek Oaks Golf Club, 5880 Woodcreek Oaks Blvd., Roseville.



Board Meeting Location

WPARC Board meets on second Tuesdays at Pizza Round Up, 2270 Nicolaus Rd, Lincoln at 7:00 PM. Members and guests with business to bring before the board are welcome to attend.
WPARC Field Day - 2015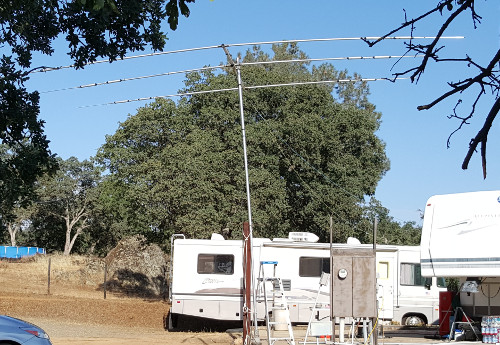 WPARC Field Day 2015 main site with trailers
Field Day 2015 featuring unofficial mascot Cody the dog.
WPARC News
VoIP on the Club Repeater

Our Club repeater now has the capability to connect to repeaters all over the world by VoIP. Read more about it at the VoIP page.



Field Day - Jun 25+26 2016

If its June then it there must be Field Day! WPARC operated Field Day from high atop Lincoln area foothills at Gary's QTH. It was a hot two days. Pictures and report coming soon.



Ham Fest - Sep 17, 2016

Our annual ham fest is coming Saturday, September 17, to McBean Park in Lincoln. Your boat anchor could be someone else's treasure!


2016 WPARC Activities
January
12-Board Mtg
16-Member New Year Dinner
19-Club Mtg

February
9-Board Mtg
16-Club Mtg

March
8-Board Mtg
15-Club Mtg

April
12-Board Mtg
19-Club Mtg

May
10-Board Mtg
14-Tour de Lincoln Event Support
17-Club Mtg

June
14-Board Mtg
21-Club Mtg
24-26-Field Day
July
12-Board Mtg
19-Club Mtg

August
9-Board Mtg
16-Club Mtg

September
13-Board Mtg
17-WPARC Ham Fest
20-Club Mtg

October
11-Board Mtg
18-Club Mtg

November
8-Board Mtg
15-Club Mtg

December
13-Board Mtg
20-Club Mtg
TBD-Lincoln Holiday Parade Event Support
TBD-Lions Food Distribution Event Support

WPARC Nets
VHF NETS on K6PAC Repeater

Monday 8:30PM » C4FM Forum Learn about this new digital technology
Wednesday 10AM » WPARC Day Net Members and guests welcome
Thursday 7:30PM » WPARC Evening Net Members and guests welcome



HF NET

Check in during the Thursday evening 2 Meter Net to hear where we will CQ this week!
Scheduled Band Rotation
1st Thu – 10 meters (28.410 MHz) – 7/7, 8/4, 9/1
2nd Thu – 15 meters (21.355 MHz) – 7/14, 8/11, 9/8
3rd Thu – 40 (7.225 MHz) – 7/21, 8/18, 9/15
4th Thu – 75 Meters (3.855) – 7/28, 8/25, 9/22
5th Thu – 10 meters (28.410 MHz) – 6/30, 9/29



Net Script

Running a net is a great way to gain radio experience. Try your hand at running a net! The script can be found here [pdf].
WPARC Officers - 2016
| | | |
| --- | --- | --- |
| President | Bill M | KJ6YCO |
| Vice President | Jerry H | N6JKH |
| Secretary | Michael B | K6BUK |
| Treasurer | Paul P | KJ6ORG |
| Board Member | Clay A | K6AEP |
| Board Member | Gary T | WA6IKE |
| Board Member | Arturo G | KK6NFM |
| Alternate Board Member | Katy M | KJ6YCP |